Port 2015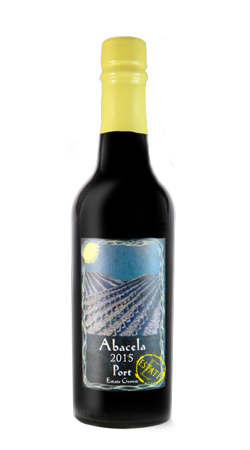 Wine Specs
Appellation
Umpqua Valley
Harvest Date
13, 19 September and 8 October, 2015
Bottling Date
July 7, 2017
Wine Profile
Tasting Notes
This Vintage style dessert wine, akin to Vintage Ports, was crafted from five traditional Douro wine grapes grown on our estate and aged for 20 months in barrel. Opaque in the glass, this wine has notes of dried figs, blackberries, raisins, plums, cocoa, and exotic spice. Fine grained tannins create rich texture and a lengthy finish. Cellar for a decade or more.
Awards
Outstanding! - Wine Press Northwest Spirited Tasting, Sept. 2020 Four years of bottle aging by winemaker Andrew Wenzl has the current release of Abacela's vintage Port-style program already in "Outstanding!" territory, and history indicates this is just a baby. As usual for the Southern Oregon wine industry's iconic property, five traditional varieties come into play in the form of Tempranillo (37%), Tinta Amarela (28%), Tinta Cão (14%), Touriga Naçional (11%) and Bastardo (10%). They yield perfumy aromas of Marionberry, Simpkin's Blackcurrant Drops, cherry soda, cedar and dried herbs. The fluid is dense yet friendly with dark cherry, plum and nutmeg. Its immense structure bodes well for cellaring — as this tasting would later reveal — finishing with cocoa powder and black currant. Enjoy with Black Forest Cake, a wedge of Stilton or toasted filberts.
Vineyard Notes
Abacela's Estate Fault Line Vineyards
Production Notes
100% Neutral oak barrels
Winemaker Notes
Andrew Wenzl
Production
300 cases (375ml) / 42 cases (750 mL) produced
Product Reviews
Wendee Dineen
(Dec 28, 2019 at 10:26 PM)
I purchased this wonderful Port after your visit to CWES in Vancouver, Wa. I served it to our family after dinner on Christmas night. It delighted our palate with it's dark fruit, smooth finish. My husband does not usually drink wine but he really enjoyed this desert wine and suggested we buy another bottle.