Abacela's 25 Variety Site Trials; On-Going Results
Earl and Hilda set up these trials by selecting grape varieties whose Old-World home of origin shared a climate with one of the micro-climates found at Abacela.
Each variety planted was harvested and made into wine but not every wine was taken to market as a varietal. Only wines that when made in the traditional wine style of their European homeland that exhibited varietal typicity were considered for commercial production. Finally, each wine was rigorously tested against wines of the same variety in double blind "Bull's Eye" tastings against European, and when available American wines. These high standards for release as a commercial wine enabled Abacela to establish a reputation for sound wines which in turn facilitated sales, wine club growth, and distribution.
The table below shows the results to date.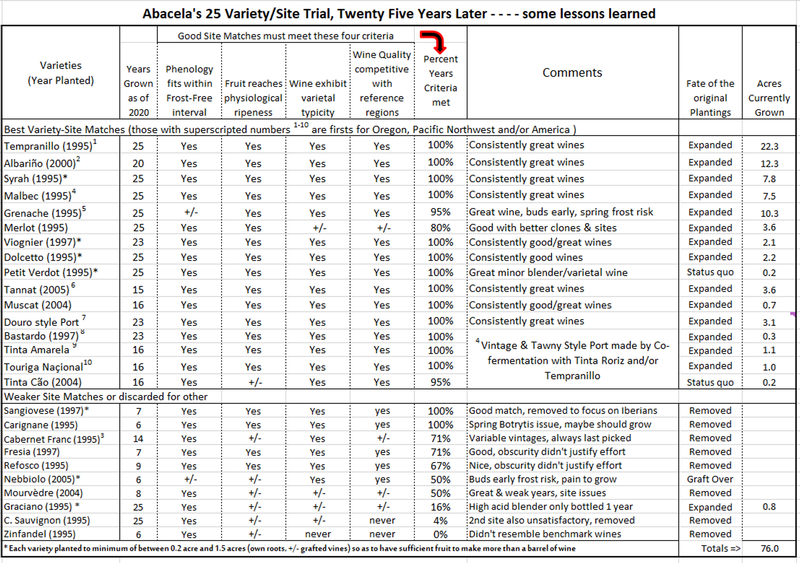 Like Tempranillo, many of these Old-World grapes had never been planted in Oregon or the Pacific Northwest. Cabernet Franc, Malbec, Merlot and Cabernet Sauvignon were already being grown in Oregon. Only Merlot and Cabernet Sauvignon had been bottled as varietal wines and the three minor varieties were grown in limited quantity and used only for blending with Merlot and/or Cabernet in Bordeaux-style wines.
Some of the mélange of varieties thrived and some failed. The table summarizes the results but to fully grasp Earl and Hilda's variety-site-matching trials you need to visit the Vine & Wine Center, and with tasting glass in hand, take a long look at the patchwork quilt of vines covering the hillsides. Only then can you appreciate the scope and success of their labor of love.