Sustainability
Sustainable Viticulture

Earl grew up with organic, biodynamic agriculture on his parents' farm and has always believed in working/living with nature. Abacela was a member of Salmon Safe and LIVE, a Sustainable Certification program, and one of just 14 Oregon wineries to be a charter member of Governor Kulongoski's Carbon Neutral Challenge. The sustainable practices, although no longer certified, continue to be used just like when they were certified.
The vines are managed with minimum inputs (mostly organic sulfur sprays) and lots of old-fashioned soil amendments (Zoil) and manual labor. Pruning shoot and fruit thinning are used to control the crop load and maintain optimum production per acre. Leaf-pulling is used to control the canopy and manage sun exposure. Abacela does not use insecticides, which means many beneficial insects thrive in the vineyard, especially lady bugs, praying mantises and bees.
Other Stewardship and Sustainability Practices Include:
Hay to Zoo-Doo to Compost "Zoil"
Since 1997 Abacela has partnered with a neighbor to bale hay from Abacela's unplanted acreage to donate to the adjoining Wildlife Safari. In a peculiar recycling program, the Safari returns elephant dung and bedding hay to Abacela who composts the "Zoo-Doo" with leftover grape seeds, stems and skins to create nutrient-rich organic material they call "zoil". This mutually beneficial exchange continues and Abacela has donated more than 50,000 bales of hay to the Safari to date. This is recycling at its best.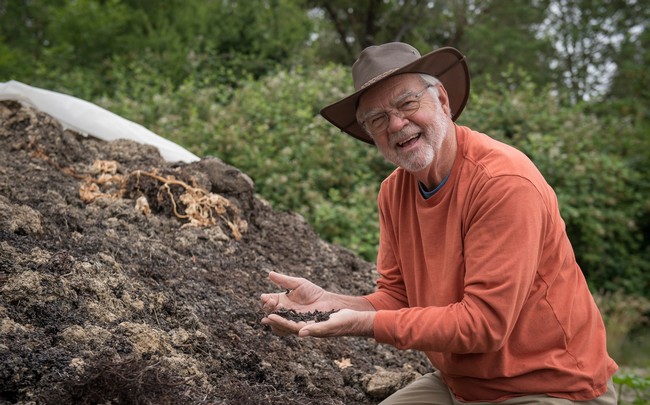 Earl Jones checking in on the "Zoil"
Geothermal Cooling & Heating
A geothermal system is used to heat and cool the >4000 sq ft Vine & Wine Center that houses the tasting room. This eco-friendly, cost-efficient method significantly reduces the winery's carbon footprint and cost of operation.
Nature Conservancy
The Joneses have set aside 300-acres for a wildlife conservation habitat that includes precious oak savannah and the native flora and fauna. They also have preserved trees when planting, removing just nine trees in the course of creating 76 acres of vineyard.
The Pioneer Orchard & Vineyard
There is a very old three-acre orchard and vineyard on the property that dates back to the 1800s with the available information indicating it was planted sometime between 1849 and 1871. Hilda has worked with the OSU Extension and Master Gardeners to graft many of its heritage apple and pear trees onto dwarf rootstocks to share with others.
When the Joneses arrived, the orchard contained a large blackberry thicket and in midsummer grape shoots would become a visible atop the blackberries, a clue that there was a vineyard smothered by the thicket. Meticulous clearing of the thicket over several years finally revealed a ½ acre vineyard with no trellis remaining. There was a tangled mess of five vine types some with trunks the size of small trees and scared from wildfires. Twisted python like cordons grew horizontally within the blackberries and one 60 ft long cordon had taken roots wherever it touched the ground. The most unusual of these vines was sent to UC Davis for DNA analysis, which revealed it to be Listan Prieto. This protype Mission Grape was brought to America in the 1500s by the conquistadors to be grown in Spanish missions across nuevo Spain. It is likely the Listan Prieto arrived in Oregon via the missions in California. How and when it arrived at Abacela remains a mystery!