Our Tasting Room
---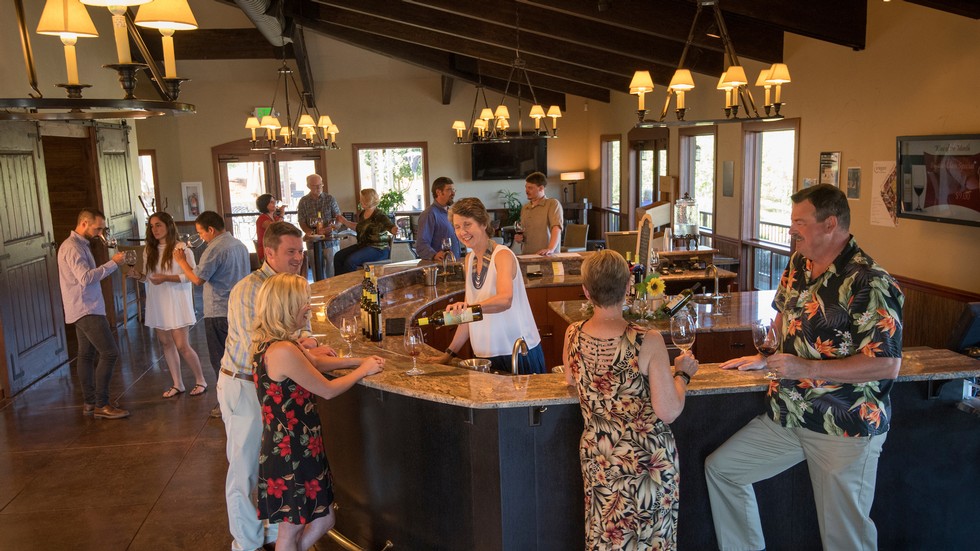 Vine & Wine Center • Tasting Room
* * * * *
Open for Outside Wine Tasting
COVID Update, March 26, 2021; Abacela is open for both indoor and outdoor Seated Wine Tastings. We have covered areas to protect from rain, but dress warm and feel free to bring a lap blanket. The health and safety of our guests and staff is our priority. Masks will be required at all times indoors (restrooms visits, settling up) and while interacting with staff (indoors and outdoors), except while sipping wine or enjoying a cheese plate. We are diligent in following all sanitation guidelines for your safety, so you can have peace of mind during your wine time with us.
All parties are limited to groups of six or less and no more than two households. Children and non-tasters are included in your group total. Reservations are required and can be made via OpenTable or by calling us at (541) 679-6642. We look forward to your visit!
Prefer the warmth of your own home?
We are still offering curbside pick-up. Please call us to place your order for pick-up (or shipping) at (541) 679-6642, or order online and choose "pick-up" from the delivery options for curbside, "shipping" for UPS Ground.
---
Tours
*NOT CURRENTLY AVAILABLE*
Join us for a complimentary, behind the scenes tour of our Estate Vineyards and wine production facilities. Vineyard tours are best during the vines growing season, which begins in April and goes through October. If it is Winter, or if the Vineyard is muddy, we can guide you through our unique "Winegrower's Walk."
All winery tours start in the Vine & Wine Center, move through the barrel cellar, and conclude on the crush pad. Additionally, you can also be shown our ecological "green" geothermal heating and cooling system.
Tours are based on availability, so please call (541) 679-6642 with at least 24 hours notice to schedule. Please also allow a minimum of 30-45 minutes for a tour.
Sustainability
Please ask us about our unique story; what led Earl and Hilda Jones to find an American location to produce fine varietal Tempranillo and Albariño wine? Abacela also produced the first varietal wines in the region from numerous other Old World wine varieties which are now grown all over Southern Oregon and Pacific Northwest.
The Vine & Wine Center was constructed with sustainability in mind; hence the open floor plan, the Bacchus Room's clerestory (heat rise tower), the tunnel and Library Wine Cellar cave and of course, the geothermal heating and cooling system. We are proud of these green practices. Please ask about our Zoo-Doo compost for the vineyard soils... all of which lowers our carbon-footprint.
Our property, although a working farm, produces much more than just grapes. Our 150 year old Heritage Orchard still produces apples, pears and our bees produce our own "a-BEE-cela honey".
Kitchen
We do have a selection of food items available for purchase. A Cheese Plate with three different cheeses, crackers and our house-made Abacela sourdough bread. Plaza Plate with a selection of three gourmet cheeses and charcuterie, dried fruit, nuts and olives. House made hummus with carrots served with with pita bread. NOTE: Food service ends an hour before closing. No outside food and/or drink allowed.
Pet Policy
Dogs on leash may enjoy our grounds and patio areas. We have a dog water bowl available and we ask that all pet owners kindly clean up after their animals. Only service dogs are allowed inside the Vine & Wine Center building.
Operating Hours
Abacela's Vine & Wine Center is open daily for wine tasting. Winter hours are 11:00 AM to 5:00 PM November through April. Summer Hours are 11:00 AM to 6:00 PM May through October, 7:00 PM on Fridays. Please note, wine tasting seatings end at 3:00 PM on Fridays due to our TGIF Wine & Pizza Night events that occur May through September.
Closed: New Year's Day, Thanksgiving Day, Christmas Day
Large Groups
Groups are limited to 6 people from a total of 2 households during Oregon's Covid restrictions. Children and non-tasters count toward the total of 6 people.
Annual Open Houses
We hope that we will be able to resume our annual open houses in 2021. Memorial Day Weekend (Sat/Sun)
Thanksgiving Weekend (Fri/Sat)
For more information:
tastingroom@abacela.com
(541) 679-6642
Hours
Daily 11 AM to 5 PM
Address
12500 Lookingglass Rd
Roseburg, OR 97471
Make A Reservation