The Vineyards
Oregon's Most Interesting Vineyard Property
Thus, science and good measure of luck gifted Abacela with a combination of multiple mesoclimes, an interesting topography and multiple soil types that made it an extremely interesting vineyard site. In April of 2001 Decanter Magazine dubbed Abacela "the most interesting vineyard property in Oregon" and over the years many others have agreed. Still, without the uncanny timing of Wells' geological report the Joneses would not have understood the significance of the soils they farm.
In 2015, Dr Scott Burns Professor emeritus of Geology at Portland State University, after a study of vineyard soils in southern Oregon once again declared Abacela to be the most interesting vineyard property in Oregon.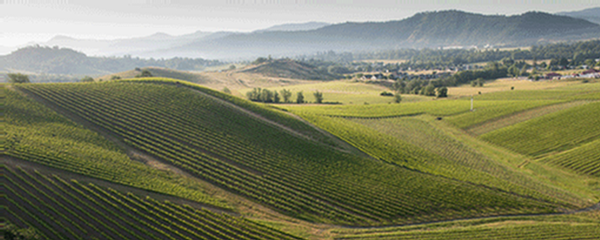 Established in 1995, our vineyards cover 76 acres of our estate.
Fault Line Vineyards has slopes that range from flat to 43%, with an average grade of 13%. (By comparison, Interstate 5's notorious Siskiyou Summit Mountain pass on the Oregon-California border is a 6% grade.) The vineyards elevation ranges roughly 300 feet from 526 to 816 ft above sea level and comprise three main parcels: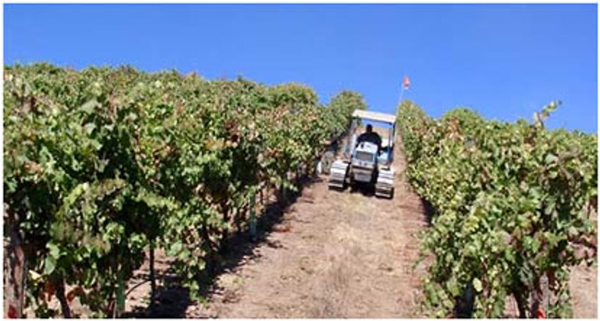 "If I didn't have a farm boy background, I could have killed myself driving tractors on these steep hills." - Earl Jones
Cox's Rock
Cox's Rock Parcel, Abacela's first vineyard, was established in 1995. It was named for James and Elizabeth Cox who settled the property in 1849. It has southerly slopes that average 12% grade, and elevation ranging from 526 to 640 ft, with an average of 590 ft.

Cobblestone Hill
Cobblestone Hill Parcel was established in 2000 but the Grand Hill portion was not completed until 2009. It has a varied topography with south, west and north facing slopes. The peak vineyard elevation is 816 ft atop Grand Hill. Its most dramatic feature is the steep rise to the top (760 ft) of South Face block. The blocks average 690 ft in elevation and slopes range from nearly flat to 43% on the South Face block, with an average of 18%.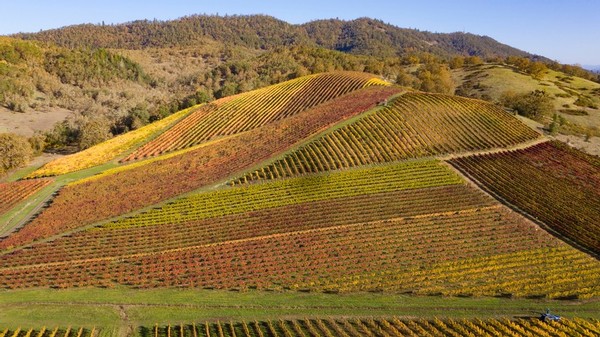 Photo by Andrea Johnson Photography
Chaotic Ridge
Chaotic Ridge Parcel is was established in 2004-2005 and has gradual slopes, averaging 5% with a southwest to west exposure. The vineyard's average elevation is 577 ft and ranges from 557 to 635 ft. It is interesting because of it's tumulted geology and odd soil types.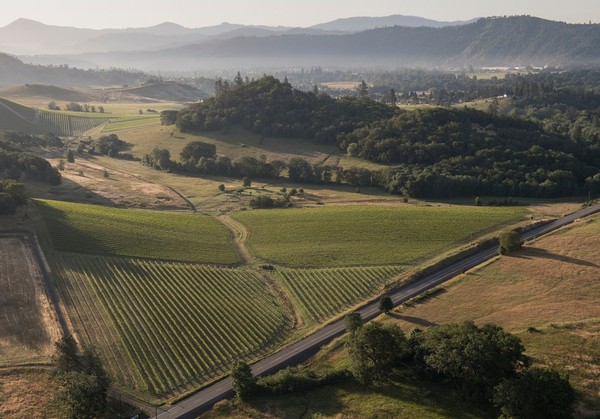 Photo by Andrea Johnson Photography
The Middles
The Middles Parcel, skipped over early because being flat it was less interesting than Cobblestone Hill was planted in 2009. The Middles is the smallest parcel and consists of Fiesta Ridge, Esperanza and Algeria Blocks which are each close to the Vine & Wine Center. Algeria block has the most slope which is gentle and to the east. Elevation averages about 600 feet.
The five soils at Abacela, Sutherlin silt loam, Philomath-Dixonville complex, Dickerson loam, Nonpareil loam, and Coburg silt loam, are each very different and therefore each requires its own specific irrigation and fertility management. For example, plant establishment on the cobble soils require three to four times the water of clay loam. With such block to block variability irrigation must be controlled on a block by block basis using both soil moisture sensors and monitoring the plant water status.
Photo by Andrea Johnson Photography