Club Member Events
---
October 2022
TGIF 10/07/22
4:00 PM to 8:00 PM
Fri, Oct 7, 2022
Venue:
Vine & Wine Center
Contact:
wine@abacela.com (541) 679-6642,
wine@abacela.com
Abacela will be open until 8:00 PM on Fridays through the summer. Enjoy a glass of wine or a bottle and order a hand-tossed pizza fresh from our outdoor horno to match. **Please note that general wine tasting is not available from 4:00 PM until close on TGIF Wine & Pizza Nights. Make a reservation.
MENU
Coming soon.
Margherita:
Sliced Tomatoes and Fresh Mozzarella with Marinara. Finished with Basil and Parmesan on our hand-tossed dough.
Perfect with 2019 Fiesta Tempranillo
Dessert:
coming soon
NOTE: Quantities are limited. Pizza orders are taken until 6:00 pm, while supplies last. No phone orders. Please, no outside food or drink during this event.
November 2022
CLOSED for Thanksgiving 2022
Thu, Nov 24, 2022
Venue:
Abacela
Abacela will be closed on Thursday, November 24th in observance of Thanksgiving.
We hope to see you for our Thanksgiving Weekend Open House starting Friday, November 25th. Make your reservations today.
December 2022
CLOSED for Christmas 2022
Sun, Dec 25, 2022
Venue:
Abacela
Abacela will be CLOSED on Christmas Day. Please visit us on Christmas Eve or on the 26th. Happy Holidays!
May 2023
Savor a Bordeaux Cruise with the Oregon Tempranillo Alliance
Sun, May 21, 2023 - Sun, May 28, 2023
Contact:
EXPEDIA CRUISES (877) 651-7447,
wineclub@expediacruises.com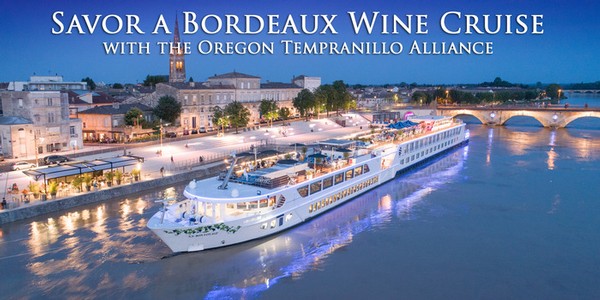 Uncover the proud legacy and heritage of Southwest France with Abacela Vineyards and Winery!
GEMS OF SOUTHWEST FRANCE
7-night cruise | May 21-28, 2023 | Aboard the SS Bon Voyage

CITIES & SIGHTS:
Bordeaux • Blaye, Bourg sur Gironde • Cussac Fort Médoc, Pauillac la Fayette • Cadillac • Libourne • Bordeaux
JOIN US ABOARD THE AMAVERDE
Join the Oregon Tempranillo Alliance alongside Gavin Joll, Abacela's General Manager, while setting sail along three stunning rivers, the Garonne, Dordogne and Gironde, on one fascintingly historcal and invigorating journey. Explore the country's breathtaking backdrops, wines and cultural treasures across the Southwest Region of France. Wander through archaeological marvels, historic landmarks and magnificent vineyards where you'll be treated to a sampling of quintessentially French experiences. Embark on a scenic drive from Blaye to Bourg along the Route de la Corniche Fleurie and marvel at the sights of Blaye Fortress and Lansac Windmill along the way. Slow things down in Libourne and on your return to Bordeaux with multiple wine tastings, village tours, a farmers' market visit and Bordeaux heritage walking tour. Join us on a showcase of the best Southwest France has to offer!
YOUR EXCLUSIVE WINE EVENTS
Welcome aboard reception
Two in-depth tastings led by winery hosts: Gavin Joll and Eric Weisinger
Two wine dinners featuring Abacela wines

Bordeaux along three stunning rivers:
Garonne
Gironde
Dordogne
Staterooms start at:
$3,899 per person (including exclusive wine experience) book before it sells out!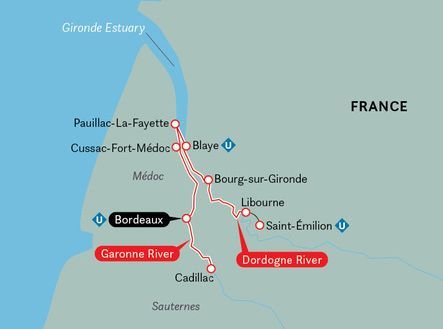 BOOKING
EXPEDIA CRUISES - Wine Club Cruises
wineclub@expediacruises.com
(877) 651-7447
CST# 2101270-40
---