25 Years of Change
Memorial Day of 2020 marks the 25th anniversary of the first grape plantings at Abacela. Much has changed since then at Abacela and in the Oregon wine industry, particularly in Southern Oregon.
In 1995 when the Abacela's first vines went in the ground there were 13 wineries in Southern Oregon; the 2018 Oregon vineyard and winery census counted 135 wineries in Southern Oregon a 10-fold increase from 23 years earlier. Today only six of the wineries operating in 1995 (Girardet, Henry Estate, Valley View, Foris, Bridgeview and Weisinger are still in operation under the same ownership. With Abacela, now only 25 years old presently being the 7 oldest winery in the region underscore the region's rapid growth. The 2018 census also revealed how dramatically the grape varieties grown in Southern Oregon have changed.
In 1995 Oregon grew primarily five international varieties, Pinot Noir, Riesling, Chardonnay, Merlot and Cabernet. These 5 varieties accounting for 76% of the state's total grape harvest of 7,100 tons and 75% of the Southern Oregon harvest of 1,046 tons. At that time little attention was paid to variety-site climate matching; in fact, many vineyards both in the Willamette and Southern Oregon grew all five of these grapes not only in the same vineyard but in adjacent rows or blocks.
Growth and Change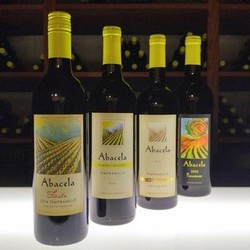 The 2018 Oregon Vineyard and Winery census shows the entire Oregon Wine Industry to have grown but the most dramatic growth and change in varieties took place in Southern Oregon. There the harvest soared to 23,519 tons which is over three times the entire states harvest in 1995. This is remarkable 25-fold increase in tonnage which contrasts with the region's 25% decrease in the traditional five international varieties. This dramatic change reflects better variety site matching to this warmer region. Six new grape varieties not indexed in 1995 (some were not even planted) now account for 23% of the region's harvest. They are Syrah with a 11% share, Tempranillo and Viognier 4 % share each, Malbec and Cabernet Franc with a 2 % share each and Albarino with a 1% share. As expected, these new varieties also produced superior wines in the region.
Abacela's Role in Introducing New Varieties to Southern Oregon
The change in varieties grown started in the 1990s when Abacela and a couple other growers begin to plant new grapes. It was Abacela's trailblazing success with Tempranillo and its variety-site-matching mantra and that attracted the most attention. They had not only pioneered a new varietal wine in America but the way they did it, variety-site matching, had worked well with Albariño, etc proving they were using the right tool to trailblaze a new frontier in Oregon viticulture. Abacela is thought to have been the first in the Pacific Northwest to grow, produce and/or bottle 100% single varietal wines from the following grapes:
Cabernet Franc, 1996

Tempranillo 1997 (America's first)

Malbec, 1997

Port-style Douro grapes-based wine, 1999

Albariño, 2001 (one of America's first)

Tannat, 2008

Tinta Amarela, 2010 (America's first)

Touriga Nacional, 2012

Graciano, 2013
In addition, Abacela grew, produced and bottled the first or among the first single varietal Syrah, Grenache, Viognier, Dolcetto, Petit Verdot, Touriga Naçional, Sangiovese and Nebbiolo in the state of Oregon. These list includes all of the six new grape varieties introduced to Oregon's annual grape census since 1995
Had these wines not been varietally correct and well-made their production and primacy of bottling would have had little meaning and their novelty would not have impacted the region. But these wines had excellent quality and Abacela became well known for its many Gold, Platinum and 90 plus point wines. In fact, Abacela's 2005 South Face reserve Syrah was the first Southern Oregon wine to score 95 points in a wine magazine and since then no other regional winery has produced a higher scoring wine