Winemaking
Philosophy
Abacela's philosophy is simple: Winemaking begins in the vineyard and the highest quality of a traditional style varietal wine is limited by the quality of the fruit when it leaves the vine. The vintner's task is to study grapes and wine to achieve the potential instilled by Mother Nature. Abacela's foremost goal is to preserve the fruit's character and quality all the way into the bottle.
The Principiles that guide winemaking at Abacela
Only pick ripe fruit that will make expressive, varietal correct, terroir-driven wine
Process grapes in small batches using a gravity flow system and minimal handling to preserve fruit integrity.
Gently extract skin-bound components that contribute aroma, flavor, color, texture, and mouthfeel to the wine.
Use oak barrels for elevage but use new oak in moderation to avoid overwhelming the wine's natural flavor and aroma.
Filter wines only when necessary to preserve, not remove, the grapes intrinsic characteristics.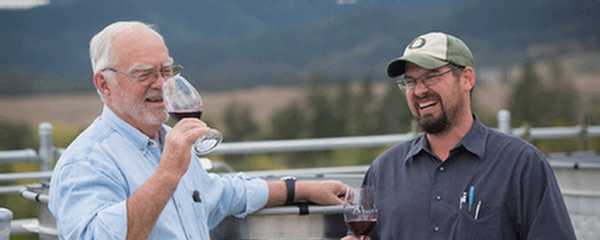 Earl and Andrew enjoying a moment together on the crush pad tasting wine
Winemaking Team
Our winemaking team consists of the vineyard manager, winemaker and his assistant, plus inputs from the owner and general manager.
Earl was the founding winemaker from 1996 until 2008. Since then Andrew Wenzl has been the winemaker. This family owned winery has a dedicated staff that includes Jason Farmer, assistant winemaker, as well as Alison Reeve, vineyard manager, and her staff who manage the vineyard.
Interns
In 2001 Abacela established an intern program and most interns have been students working on bachelor or master's degrees in American and European universities. They gain practical experience as an intern in viticulture and winemaking (a five-month tenure) or in winemaking only (2.5-month tenure) at Abacela. These internship programs have more than forty alumni. Each internship is described in the website under
"internships
".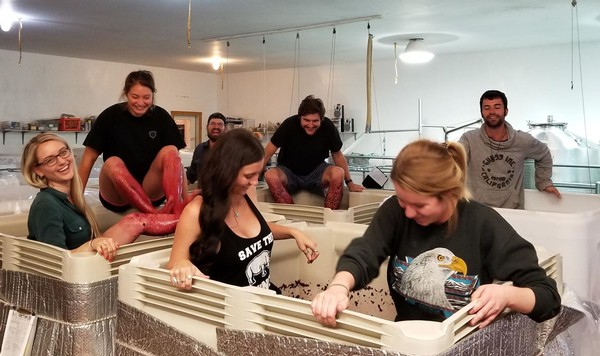 Practices
Abacela processes all its fruit in small one-ton batches using a Gravity Flow system to move grapes from the vine to the tank. Abacela does not own a must pump and thus avoids crushing the grapes into a liquid slurry and pumping. The gravity flow method uses the ever-present force of gravity to gently move the delicate grapes from picking bin to destemmer; to fermenter, then from fermenter to the press without crushing or manipulating the fruit to permit.
The yeast then ferments and digest the grapes slowly liquefying the must. Abacela is a typical gravity flow winery with three floor elevations so grape processing literally moves from top to bottom.
The Advantages of Gravity Flow are;
Gravity flow allow the winemaker to ferment the grapes as whole clusters, whole berries, partially crushed berries, completely crushed berries or combinations thereof.
Whole Berry Fermentation (WBF) is impossible with a must pulp but is easily accomplished with Gravity Flow ensuring the complicated, anaerobic, intercellular process is there when needed to create the aromatics adn limits extraction of seed bound compounds.
Spontaneous fermentations are reduced making four to seven day Cold Soaks practical as a means to soften the intact grape skin to allow a gentle, aqueous (alcohol-free) extraction and stabilization of compounds that contribute to color, aroma, flavor and texture.