Winemaker
---
Andrew J. Wenzl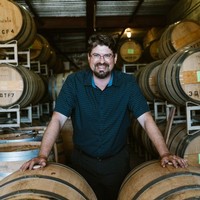 Andrew Wenzl graduated from Eastern Oregon University in 2000 with a BS in Biology and Chemistry and planned to become a veterinarian. But after an internship at a veterinary clinic, during which he discovered that he had dander allergies, it was time to reevaluate his career goals.
While hiking the 2,000 mile Pacific Crest Trail and mulling life's options he came to the conclusion that the wine business had elements he was attracted to. Andrew had always appreciated wine; claiming that his bad eyesight was "compensated by my good sense of smell and taste."
When the six month hike was complete he celebrated with a bottle of wine. Two days later he started work at King Estate Winery in Eugene OR, his home town. His enology experience there and later in 2002 at Silvan Ridge-Hinman Vineyards was inspirational. The biology and chemistry education he received was invaluable in this science based endeavor.
Andrew's energetic personality found time to enjoy more than just these job opportunities. Since 2000, he had been producing his own hobby wine. With his home winery in his garage, the passion for all parts of the wine making process grew.
In 2003, Andrew was hired as Abacela's Cellar Master. Earl's own science background appealed to Andrew while Andrew's love of experimentation was admirable in Earl's eyes. "It was a really good match." Andrew said. That year Andrew was able to participate in the 2003 harvest. From picking, to crush, to bottling, he was eagerly involved in each process.
After two years as Cellar Master, Andrew was promoted to Assistant Winemaker in 2005. He quickly began to participate in winemaking decisions and was able to follow the fruit from the field through fermentation and elevage to maturation in the bottle. He also began to pour wine at Abacela events, distribute product in the Roseburg area and conduct an occasional wine maker's dinner. "I derive real pleasure from seeing people enjoy the wines I have helped create," he said.
Three years later, Andrew was been promoted to Winemaker. The 2008 vintage marked his first crush under this title. "This harvest was a great way to prove myself and my winemaking abilities."
Andrew resides in Roseburg with his children Alli and Adam. He has planted his own vineyard and dreams of opening his own winery someday.