Planting the Vineyards
Varietal Selection

The Joneses hypothesis of matching Tempranillo to an American site climate, like that of its nativity, became their mantra and was used to select all plantings in Fault Line Vineyards. When the Joneses arrived in the Umpqua Valley most Oregon vineyards grew only the five international grape varieties, Riesling, Pinot Noir, Chardonnay, Merlot and Cabernet Sauvignon. The Joneses disregarded what was grown locally and planted Tempranillo and other grape varieties they thought fit their site climates.
Once a varietal was chosen and the site selected there were decisions regarding clones and rootstocks that are too complex for full discussion here. It will suffice to say Abacela relies on a handful of rootstocks, principally 44-53, 101-14 and 420-A which are suited most of its magnesium rich soils while always keeping a small percentage of each variety planted on its own roots for comparative purposes.
As they savored the success with Tempranillo Hilda and Earl they read and were stimulated by John Gladstone's book began to experiment with other warm climate grapes. As an estate vineyard, meaning they grow and make wine from their own grapes, as opposed to buying in grapes or growing for other vintners – they had complete control over the winemaking process. This allowed the kind of precise study they relish which led to the setting of four criteria for their variety experiments..
The Vine Materials
The 'laboratory' was ready and waiting. Now Earl and Hilda had to source Tempranillo vines, the living raw material of their experiment.

In November 1993 they obtained budwood (shoots for grafting onto rootstock) of a Tempranillo clone (called Clone 1) from Porter Lombard at the Southern Oregon Regional Experimental Center in Jacksonville, OR. The University of California Davis sold them their entire supply of two additional clones since there was no interest in California for this variety. A nursery grafted the shoots onto rootstock for planting as dormant vines in the spring of 1995. Most Rioja wines, including Tempranillo, are blended with small percentages of complementary grapes, so the Joneses ordered Grenache, Mazuelo and Graciano vines.
Criteria for evaluating a new varietal wine
The grape must thrive within the climates's frost-free periol
The grape must ripen properly
The wine must exhibit typical varietal characteristics.
The grape must produce wine of comparable quality to its Old-World counterpart.
Then, the to be farmers waited. Scientists can boss around chemicals in a lab, but not grape vines. Earl and Hilda were on Nature's timetable now. The dormant vines would arrive at the vineyard site in spring of 1995. Meantime, they had a family to move.
"Moving across the country didn't bother me. I come from an immigrant family. And my husband is very thorough with research. It wasn't like he just came home one day and said, let's move. I completely trusted his thought process and what he'd seen." - Hilda Jones

The Joneses had roots East of the Mississippi River but the future lay 2700 miles West. In the first few months of 1994 they put their house on the market, quit their jobs, rented a place in Oregon, and prepared for the biggest adventure of their life. With daughters Hanna, 12, and Meredith, four, they packed a Ford F350 crew cab pick-up, hitched up a trailer, and drove towards the sunset. The adopted the 150 year old Oregon Trail slogan; Oregon or Bust!

They arrived in the Umpqua Valley on July 29, 1994 and faced 463 empty acres. There was nothing on the land, not even a road. When Earl's elderly father came to visit he took a long look at the scrub-covered hills then said: "Son, you've lost your damn mind."

Earl didn't necessarily disagree. "One of the criteria for doing a harebrained thing like starting a winery is you have to be a romantic idealist," he says.

Romantic visions weren't going to get vines in the ground though. That needed elbow grease. Hilda's dream of living on a farm abruptly became reality. Instead of handling pipettes and slides in a sterile lab Hilda was pulling out stock fence, grubbing up blackberry bushes, and helping ready the land for planting.
"It was a great way to get in shape," she quips. Earl put his tractor driving experience he had gained as a teenager to work tilling the land. When the vineyards were defined they enclosed them with an eight-foot deer fence, dug and laid irrigation lines.
Simultaneously they built a 7000 square-foot gravity flow winery.
1st Days Planting with Hilda, Earl & Hanna Memorial Day 1995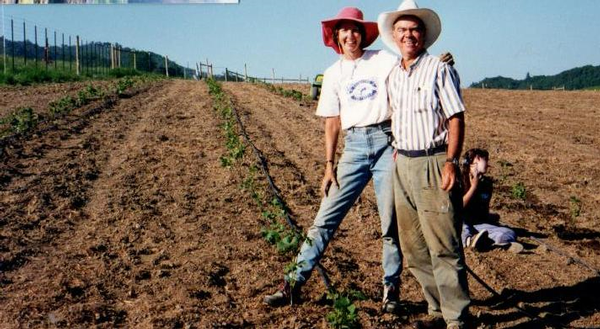 The First Planting
Earl and Hilda planted Abacela's first vines on Memorial Day 1995. One-third of the planting was Tempranillo, the rest were varietals equally unusual in the Pacific Northwest. It was a exhilarating moment after ten months of preparatory toil, but it was more than a moment; the grueling work of getting 10,000 individual vines into 12 acres of ground was ahead. Then came the nail-biting wait to see how the vines grew.

As good scientists, they looked to peers for advice but nobody else was growing these varietals. They were pioneers... and they were exhausted. To their delight the vines grew well and then went dormant that autumn, a sign they were settling into their new home.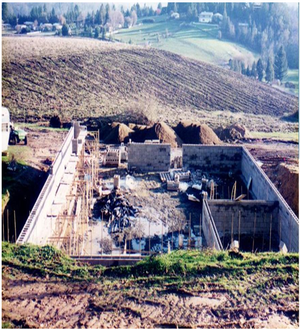 Winery building in Construction late 1994
First Harvest
The vines did so well in 1995 that the Joneses spent the summer of 1996 in a flurry of trellising, pruning and vine training. In 1996 they haarvested enough fruit for an experimental foray into winemaking. Armed with a how-to book and science based intuition Earl made 36 cases of Cabernet Franc – Abacela's first commercial wine. Thirteen-year-old Hanna's illustration of the sun shining over the vineyards became the label art (and remains the iconic label to this day). On receiving approval from the Federal Alcohol and Tobacco Tax and Trade Bureau (TTB) Abacela became Oregon Bonded Winery number 206. The Joneses were officially in the wine business.
Tempranillo's Debut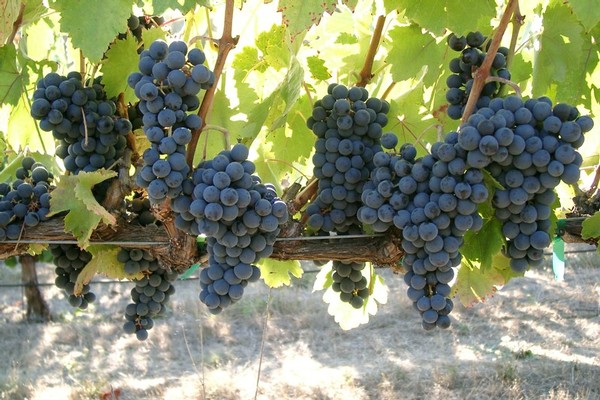 The following autumn, 1997, a small vineyard team hand-picked 22 tons of grapes from Abacela's 12 acres. It was enough to make 974 cases of wine, including 243 of their beloved Tempranillo. Abacela's was the first varietal Tempranillo ever produced in the Pacific Northwest – maybe even in the entire USA. This was the moment of truth. – was it any good?

To find out, they schlepped their Tempranillo and another couple of varietal bottlings to the Oregon State Fair where their wines garnered several medals. Next stop, Portland, where they wooed restaurateurs by pouring the Tempranillo first, and telling them where it came from second. Their Tempranillo quickly became a cult hit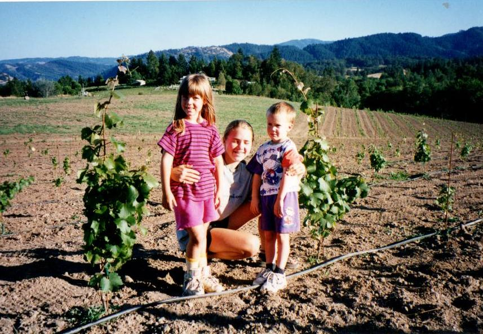 Their children were growing, the vines were thriving, early feedback was positive, and the business side of the winery was taking shape, but Earl and Hilda's grand hypothesis had yet to be tested. Was climate the key to producing
fine
varietal Tempranillo in the USA?
In 2001 they took their 1998 Estate Tempranillo to the San Francisco International Wine Competition,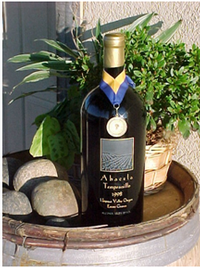 America's biggest, most prestigious international wine event. Panels of world-renowned experts blind-tasted the entries. The only way to win favor here is to bring the best wine.
There were 21 entries in the Tempranillo category. Nineteen from Spain's best bodegas plus Abacela and one other American wine. Bronze would have been an extraordinary achievement. Silver unprecedented. Imagine the stunned silence when the judges awarded
Abacela Double Gold Medal and first place
. An unknown American vineyard and self-taught winemaker producing his 2nd Tempranillo from third leaf vines had gone head to head with some of the finest Tempranillo wineries of the Old World – and won.
That validated their hypothesis.
"We named it 1994, started planting in '95, bonded the winery in '96, saw the first fruits of our labor with the '96 release, the 1997 won medals but in 2001 when we got that double gold with our '98 it was validation." - Hilda Jones

The following year Doug Frost, founder of the Jefferson Cup, which pits award-winning wines against each other in a 'best of the best' challenge, requested the '98 Estate Tempranillo for the 2002 competition. It finished in the top 10% of some 300 Gold Medal winning wines, confirming their theory that climate is the secret of great Tempranillo.
Success with Tempranillo leads to Expanded trials with other Varieties
For Earl and Hilda, the early success with Tempranillo was only the beginning. They were in an Oregon climate that had not been tested for very many warm climate grapes except Merlot, Cabernet Sauvignon and Zinfandel. So, how many other old-World grapes might also thrive in this climate? The trailblazing success of their '98 Estate Tempranillo was affirmation they were on the right path with their climate theory so why not continue trials of the grape varieties already planted and begin new trials with other varietals in what became the 25 Variety, 25 Year Varietal Trial.
Tempranillo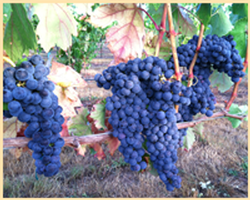 The name of Spain's noble Tempranillo means "the early one" and refers to its ability to mature in a relatively short growing season compared to Grenache and Graciano. Researchers have identified Tempranillo's genetic parents as Albillo Mayor and Benedicto, both indigenous to northern Spain and rare in modern viticulture. Born around 1000 AD, Tempranillo spread across Spain from Rioja. Most Spanish growing regions have local names for it including Tinta de Toro, Tinto Fino, Tinta del Pais, and Cencibel. Abacela has tried 9 clones of Tempranillo. As of 2020 it grows six clones in various soils and microclimate-defined blocks for a total of about 23 acres. Tempranillo is a medium to very full-bodied wine with low to moderate acidity and medium- to long-term aging capacity.
Syrah
Syrah is an ancient variety whose modern wine style originated in France's northern Rhone Valley, which still produces exceptional Syrah wines. It has become a fixture of Australian viticulture, where the grape is known as Shiraz. Abacela has three clones of Syrah in various soils and microclimate defined blocks for a total of about seven acres. Wine characteristics: Syrah produces medium to full-bodied wine with moderate to relatively high acidity and medium-short to long-term aging capacity.
Grenache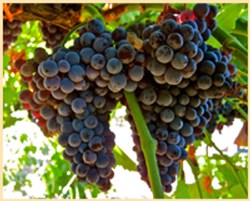 Known as Garnacha Tinta in Spain and Grenache Noir in France this variety is another of the most widely planted grapes in the world. While evidence confirms its Spanish ancestry, Grenache is perhaps most famous for its use in the great red wines of Gigondas and Chateauneuf-du-Pape in southern France, and Provence rosés and Navarra rosados. It was one of the first varieties to be planted in Australia in the 19th century. Many areas in Spain, Australia, and the USA are experiencing success with Grenache both as a varietal wine and in blends with its traditional partners: Tempranillo, Syrah, and Mourvèdre. Abacela grows three clones of Grenache in various soils and microclimate defined blocks totaling five acres. Grapes from warmer sites make red table wine, cooler blocks are farmed to produce rosé. Grenache is a medium-bodied red wine with good acidity and short- to medium-term aging capacity.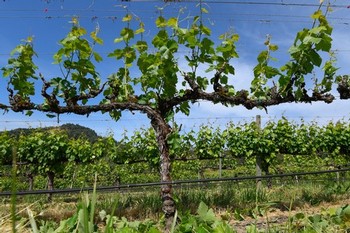 Abacela Grenache Vine, Clone 2
Malbec
Malbec is native to southwest France, specifically Cahors and Bergerac, where it is still cultivated. Bordeaux winemakers have traditionally used small quantities of Malbec to soften Cabernet Sauvignon, but it is never the dominant grape in classic Bordeaux. After the great springtime freeze of 1956 in Bordeaux Malbec soon become the principal red grape of Argentina, where it is bottled as a varietal wine. Abacela has two clones of Malbec planted to various soils and microclimate defined blocks for a total of seven acres. Wine characteristics: Malbec produces wines of medium to full-body with moderate acidity and medium-short to long-term aging capacity.
Tannat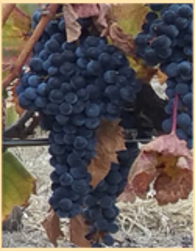 Tannat is native to the Basque country in southwestern France where it is the main component of blends in the Madiran region and it is also grown and gaining note in Uruguay. Abacela has two clones grown in three separate blocks that total 1.8 acres. Its first commercial release in 2008 was well-received and vine age or farming improvements have increased its quality. It appears to be one of Abacela's future stars. Wine characteristics: Produces a medium-full to very full-bodied wine with moderate to high acidity and medium-long to long-term aging capacity.
Albariño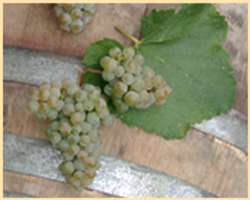 Albariño, now recognized as Spain's best white varietal is native to the lush northwestern corner of Iberia, specifically Rías Baixas in Spain and the adjacent area of northern Portugal. In its moist native climate, it is traditionally trained overhead on stone-pillared wire pergolas. This highly regarded varietal is garnering increasing worldwide attention from both producers and consumers. Albariño has been grown and produced as a barrel aged white wine in Galicia for centuries, but it was not until 1986/1987 when the wine was first fermented cold in stainless steel that its aromatics were liberated from the oak and the wine surged in popularity.
Albariño produces light to medium-bodied wine with relatively high acidity a floral and sometimes fruity note and a distinct minerality.

Abacela planted its first Albariño in 2000 and produced cold, stainless steel fermented wine from this extremely vigorous varietal in 2001, becoming one of America's first producers. From this you can see that Abacela has been making the modern Albariño wine style for more than half as long as the Galicians. Abacela is now thought to be America's oldest continuous producer of Albariño. Abacela has two clones of Albariño in several north sloping blocks for a total of 11.3 acres.
Port Grapes
Abacela cultivates five traditional Portuguese varieties: Bastardo, Tinta Amarela, Tinta Cão, Tinta Roriz, and Touriga Nacional used in making Port. These varieties were initialed planted in small blocks at strategic locations that take advantage of Fault Line Vineyard's complex soils, slopes, and warm southern exposures to optimize and synchronize ripening. These grapes are co-fermented as a cepage to produce a Port wine that is medium-full to very full bodied. If the fruit and structure in a vintage are good, the wines are aged in neutral barrels for 12 to 24 months and bottled as a vintage style Port. Abacela's Vintage Ports have excellent quality with long-term aging potential.

Experiments with the Port from years that were not as stellar led to production of a Tawny Port in 2008 and 50 percent of the volume was released after five years in barrel as a 5-year tawny. The second half of the 2008 volume was bottled after 10 years in barrel and released in 2018 as a 10-year tawny that in Portugal is referred to as a Colheita.

Tinta Amarela and Touriga Naçional also make interesting red table wines, which as you might guess, lead to expansion blocks and these varieties are now bottled in increasing quantity annually.