Operations
---
Our Vineyards
"If I didn't have the farm boy background, I could have killed myself driving tractors on these steep hills." - Earl Jones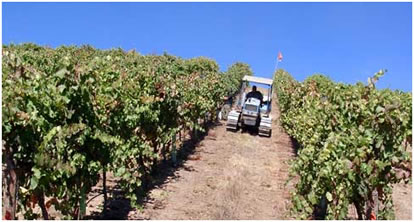 Abacela's Fault Line Vineyards, named for its location on the Klamath/Coastal Range fault, has slopes that range from flat to 43%, with an average grade of 13%. (By comparison, Interstate 5's notorious Siskiyou Summit mountain pass on the Oregon-California border is a 6% grade.)
The Fault Line Vineyards range almost 300 feet in elevation from 526 to 816 ft above sea level and comprise three main areas:
Cox's Rock Parcel (named for an early settler) has southerly slopes that average 12% grade, and elevation ranging from 526 to 640 ft, with an average of 590 ft.
Cobblestone Hill Parcel, and its Grand Hill subsection, has a varied topography with south, west and north facing slopes. Its most dramatic feature is the steep rise to the top of Cobblestone Hill (760 ft) that comprises South Face block. The vineyard blocks average 690 ft in elevation. Slopes range from nearly flat to 42% on the South Face block, with an average of 18%. The peak vineyard elevation is 816 ft atop Grand Hill.
Chaotic Ridge Parcel has the most gradual slopes, averaging 5% with a southwest to west exposure. The vineyard is 577 ft elevation on average and ranges from 557 to 635 ft.
The Fault Line Vineyards' diverse geology has a mix of metamorphic, sedimentary, and volcanic soils. Lower elevations are mostly clay loams while the hillside soils have mixed clay, silt, and sand-like structures. The five soils at Abacela, Sutherlin silt loam, Philomath-Dixonville complex, Dickerson loam, Nonpareil loam, and Coburg silt loam, are each very different. The age of the bedrock from which the soils are derived is also very different with the oldest being over 400 million years older than the youngest.
Each soil requires a specific approach to irrigation and fertility management. For example, sandy loam requires three to four times the water of clay loam. To help manage these differences, irrigation is controlled on a block by block basis using both soil moisture sensors and monitoring the plant water content. Soil fertility and pH also varies, making the vineyard a biochemical challenge that is sheer joy for Hilda and Earl, and a perfect testing ground for their theories.
Grape Varieties
As Abacela vineyards took shape and they savored the success of their Tempranillo Hilda and Earl wanted to experiment with other warm climate grapes. As an estate vineyard – meaning they grow and make wine from their own grapes, as opposed to buying in grapes or growing for other vintners – they had complete control over the winemaking process. This allowed the kind of precise study they relish. Together, they set four criteria for their variety experiments;
The grape must thrive within the climate's frost-free period
The grape must ripen properly
The grape and wine must exhibit typical varietal characteristics
The grape must produce wine of comparable quality to its Old World counterpart
Major Varieties
The following varietals have been part of the Abacela experiment;

Tempranillo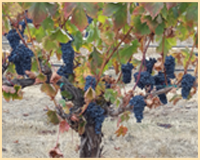 History: The name of Spain's noble Tempranillo means "the early one" and refers to its ability to mature in a short growing season. Researchers have identified Tempranillo's genetic parents as Albillo Mayor and Benedicto, both indigenous to northern Spain and rare in modern viticulture. Born around 1000 AD, Tempranillo spread across Spain from Rioja. Most Spanish growing regions have local names for it including Tinta de Toro, Tinto Fino, Tinta del Pais, and Cencibel.
Abacela has tried 10 clones of Tempranillo. As of 2015 is grows nine clones in various soils and microclimate-defined blocks for a total of about 27 acres.
Wine characteristics: Tempranillo is a medium to very full-bodied wine with low to moderate acidity and medium- to long-term aging capacity.
Syrah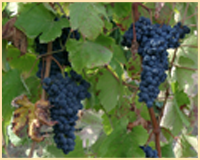 History: An ancient variety whose modern type originated in France's northern Rhone Valley, which still produces exceptional Syrah wines. It has become a fixture of Australian viticulture, where the grape is known as Shiraz.
Abacela has three clones of Syrah in various soils and microclimate defined blocks for a total of about seven acres.
Wine characteristics: Syrah produces medium to full-bodied wine with moderate to relatively high acidity and medium-short to long-term aging capacity.
Grenache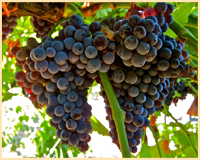 History: Known as Grenache Noir in France and Garnacha Tinta in Spain, this is one of the most widely-planted grapes in the world. While evidence confirms its Spanish ancestry, Grenache is perhaps most famous for its use in the great red wines of Gigondas and Chateauneuf-du-Pape in southern France, and in Provence rosés and Navarra rosados. It was one of the first varieties to be planted in Australia in the 19th century.
Many areas in Spain, Australia, and the USA are experiencing success with Grenache both as a varietal wine and in blends with its traditional partners: Tempranillo, Syrah, and Mourvèdre.
Abacela grows three clones of Grenache in various soils and microclimate defined blocks totaling five acres. Grapes from warmer sites make red table wine, cooler blocks are farmed to produce rosé.
Wine characteristics: Grenache is a medium-bodied wine with good acidity and short- to medium-term aging capacity.
Malbec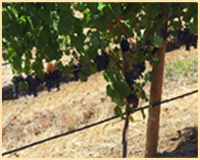 History: Native to southwest France, specifically Cahors and Bergerac, where it is still cultivated. Bordeaux winemakers traditionally use small quantities of Malbec to soften Cabernet Sauvignon; it is never the dominant grape in classic Bordeaux. Starting in the 1950s, Malbec become the principal red grape of Argentina, where it is bottled as a varietal wine.
Abacela has two clones of Malbec planted to various soils and microclimate defined blocks for a total of seven acres.
Wine characteristics: Malbec produces wines of medium to full-body with moderate acidity and medium-short to long-term aging capacity.
Tannat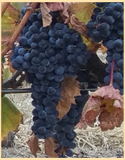 History: Native to the Basque country in southwestern France where it is the main component of blends in the Madiran region. Also grown and gaining note in Uruguay.
Abacela has two clones grown in three separate blocks that total 1.8 acres. Its first commercial release in 2008 was well-received and vine age or farming improvements have increased its quality. It appears to be one of Abacela's future stars.
Wine characteristics: Produces a medium-full to very full-bodied wine with moderate to high acidity and medium-long to long-term aging capacity.
Albariño

History: Spain's noble white varietal is native to the lush northwestern corner of Iberia, specifically Rías Baixas in Spain and the adjacent area of northern Portugal. In its moist native climate it is traditionally trained overhead on stone-pillared wire pergolas. This highly-regarded varietal is garnering increasing worldwide attention from both producers and consumers.
Abacela has two clones of Albariño in several north sloping blocks for a total of 11.3 acres.
Wine characteristics: Albariño produces light to medium-bodied wine with relatively high acidity and distinct minerality.
Port Grapes
Abacela cultivates five traditional Portuguese varieties: Bastardo, Tinta Amarela, Tinta Cão, Tinta Roriz, and Touriga Nacional. It has small plantings of these Douro grapes at strategic locations that take advantage of Fault Line Vineyard's complex soils, slopes, and warm southern exposures to optimize and synchronize ripening.

These grapes are co-fermented to produce a ruby-style Port wine that is medium-full to very full bodied. It is bottled after aging 24 months in neutral barrels. Abacela's Vintage Ports have excellent quality with long-term aging potential.

Experiments with others led to led to production of a Tawny Port. The first was released after five years in barrel. The second release will be a 10-year tawny.

Another experiment showed that Tinta Amarela and Touriga Naçional also make interesting red table wine, so additional blocks were planted to produce small batches of varietal wine.
Vineyard Management

Varietal Selection
Abacela's founding principle and fundamental philosophy is: Match the grapes to the site climate. This means eschewing cool climate varietals such as Pinot Noir, Pinot Gris, Pinot Blanc, and Chardonnay that thrive in many places in Oregon, especially the Willamette Valley. Some visitors are surprised that Abacela doesn't grow these "typical" Oregon grapes. However as Earl and Hilda's hypothesis and experimentation show, the critical factor in producing great wine is finding the ideal harmony between climate and vine – which is why they don't produce Pinot Noir and its cool climate relatives.
Once a varietal is chosen there are, of course, decisions regarding clones and rootstocks that are too complex for full discussion here. Abacela relies on a handful of rootstocks suited to its soils, but keeps a small percentage of each variety planted on its own roots. This allows for study of the rootstock's effect on vine vigor etc.
Vineyard Design
Row orientation, e.g. whether vines are planted running north to south, or east to west, determines how much sun the grape clusters get. Abacela plants mostly north/south rows but some varietals like Grenache are east/west oriented because they need more shade. Because mornings in the Umpqua Valley are often overcast the north/south rows are laid out 18-20 degrees farther west for achieve equal sun exposure on both sides of the canopy.
Human as well as climate factors influence vineyard design. Narrow tractors would be at risk of tipping over on Abacela's steep hillsides so rows are planted ten feet apart to allow for bigger, safer tractors. Finding the ideal plant to plant spacing within the row was a matter of experimentation. In 1997 Tempranillo and Syrah trials were planted with spacing that began at six inches between plants and extended to ten feet between plants, in both six-inch and one-foot increments. This now famous study is on-going, and new plantings are adjusted based on soil, variety and rootstock, with an average plant to plant spacing of five feet.
Abacela has tried four trellis types, including bush (goblet) vines. This helped identify vertical shoot positioning as the best choice. Vines are trained using both cane and spur pruning, based on years of studying which varieties do best with which system.
Sustainable Viticulture
Earl grew up with organic, biodynamic agriculture on his parents' farm and has always believed in working with nature. Accordingly, the vines are managed with minimum inputs (mostly organic sulfur sprays to protect against mildew) and lots of old-fashioned manual labor. Leaf-pulling is used to control the canopy and manage sun exposure. Pruning, shoot thinning and fruit thinning are used to control the crop load and maintain optimum production per acre.
Other Good Stewardship and Sustainability Practices Include:
Zoo-Doo
Since 1997 Abacela has partnered with a neighbor to bale hay from Abacela's unplanted acreage to donate to the adjoining Wildlife Safari. In return, the Safari sends elephant dung and bedding. Abacela composts this "Zoo-Doo" with leftover grape seeds, stems and skins to create nutrient-rich organic material they call "zoil". This mutually beneficial exchange continues and Abacela has donated more than 50,000 bales of hay to the Safari to date.
Beneficial Bugs
Abacela avoids using insecticides, which means many beneficial insects thrive in the vineyard, especially lady bugs, praying mantises and bees. A large natural bee population lives in hollows of old trees on the ranch. One of Hilda's current projects is wooing them into hives with and producing A-BEE-cela honey.
Pioneer Orchard & Vineyard
There is an old three-acre orchard and vineyard on the property that dates back to the mid or late 1800s. Hilda has worked with the OSU Extension and Master Gardeners to graft many of its heritage apple and pear trees onto dwarf rootstocks to plant a new orchard, as well as to share with others.
Mission Grape (Listan Prieto)
The aforementioned vineyard was smothered in blackberry vines when the Joneses arrived. Meticulous clearing revealed five distinctive vine types with trunks the size of small trees, twisted like pythons. Many trunks had rooted wherever their serpentine growth touched the ground. One of these unusual pioneer vines was sent to UC Davis for DNA analysis, which showed it is Listan Prieto. This Mission grape was brought to America by the conquistadors and grown in Spanish missions in California. How it arrived at what would become Abacela remains a mystery! There are plans to genetically identify the other old vines as well.
Geothermal Cooling & Heating
Inspired by Hilda's Icelandic roots, the Joneses use a geothermal system to heat and cool the 4000 sq ft Vine & Wine Center that houses the tasting room. This eco-friendly, cost-efficient method significantly reduces the winery's carbon footprint.
Sustainable Certifications
Abacela was a member of LIVE and Salmon Safe and one of just 14 Oregon wineries to be a charter member of Governor Kulongoski's Carbon Neutral Winery Group.
Nature Conservancy
The Joneses have set aside 300 acres of land, including precious oak savannah, for native plants and animals. They also preserved as much flora as possible while planting, removing just nine trees in the course of creating 76 acres of vineyard.
Winemaking

Philosophy
Abacela's philosophy is simple: Winemaking begins in the vineyard. The quality of a finished wine is determined by the grape's quality when it leaves the vine. The vintner's task is to study wine and work with the grapes to express the potential instilled by Mother Nature.
Abacela's foremost goal is to preserve the fruit's character and quality all the way into the bottle.
Principles
Abacela's philosophy shapes the principles that guide its winemaking;
Only pick ripe fruit that will make expressive, varietal correct, terroir-driven wine.
Process grapes in small batches using a gravity flow system and minimal handling.
Gently and thoroughly extract the skin-bound compounds that contribute aroma, flavor, color, texture, and mouthfeel to the wine.
Use oak barrels for élevage, but use new barrels in moderation to avoid overwhelming the wine's natural flavor and aroma.
Filter wines only when necessary to preserve, not remove, the grape's characteristics.
Practices
Abacela makes all its wine using a gravity flow system to move grapes from the vine to the tank. Many wineries rely on must pumps to process grapes because they are factory-like efficient. Pumping requires that the grapes be crushed into a liquid slurry. The crushing and pumping can indiscriminately mashes skins, pulp and seeds which can release bitter-tasting chemicals into the juice. Pumping, i.e. compressing also forces oxygen into the liquid which causes oxidation and promotes microbial activity. The gravity flow method, in contrast, uses the ever-present force of gravity to gently move the delicate grapes from place to place.
In a gravity flow process, intact grapes are transferred from picking bin to destemmer; then from fermentor to press. The grapes don't have to be crushed or manipulated. Gravity carries the fruit gently to the fermentor where yeast fermentation slowly liquefies the must. Abacela has a typical gravity flow winery, built across several floor levels so grape processing literally moves from top to bottom.
Advantages of Gravity
The gravity flow method, although labor and time consuming, offers three major advantages;
Using gravity allows the winemaker to ferment the grapes as whole clusters, whole berries, partially crushed berries, completely crushed berries or combinations thereof.
Gravity flow processing permits whole berry fermentation (WBF) which is impossible with a must pump. WBF is a complicated, anaerobic, intercellular process that enhances certain fruit aromatics and creates a more supple texture by limiting extraction of seed-bound compounds during skin contact.
Spontaneous fermentation is slowed, making cold soaking practical. This four to seven day process softens the intact grape skin and allows for a gentle, aqueous (alcohol-free) extraction and stabilization of compounds that contribute to color, aroma, flavor and texture.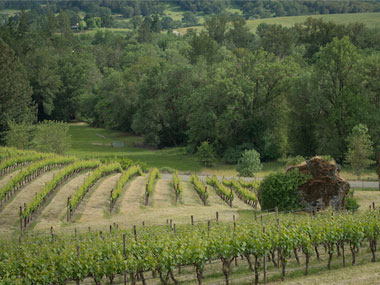 COX'S ROCK
Our first vineyard was established in 1995.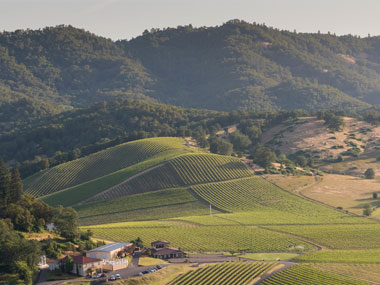 COBBLESTONE HILL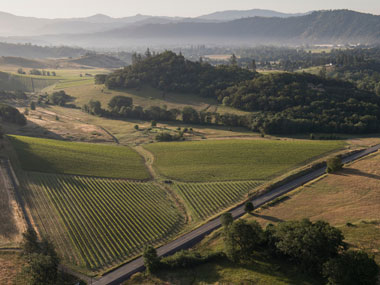 CHAOTIC RIDGE