The Project
---
Research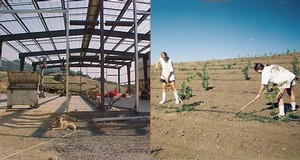 It was 1989 when Hilda and Earl dedicated themselves to the mystery of the missing Tempranillo. As scientists, they knew good research was the key to success.
Before giving up their jobs they needed to learn more about viticulture and enology. None of America's notable wine universities are located in the Deep South so they had to rely on books and be their own teachers. First and foremost, they had to figure out what exactly makes a good Tempranillo.
Earl headed to Spain and quizzed winemakers. Many experts thought Rioja's unique soils explained its 150-year history of fine Tempranillo production. Since Rioja wines from higher elevation vineyards tended to be better some thought elevation was a quality factor. Then Earl's scientific mind found a clue pointing to a different answer.
Some 150 miles to the southwest of Rioja lays Ribera Del Duero. Its Vega Sicilia winery had produced fine Tempranillo wine for over a century but critics thought it was an exception. Then in the late 1970s - early 1980s Alejandro Fernández, an upstart producer located 10 miles from Vega Sicilia, began making wonderful Tempranillo wines. When Earl tasted its critically acclaimed 1982 Pesquera Janus Reserve he realized that Ribera Tempranillo could equal or surpass Rioja.
But why? Ribera Del Duero has different vineyard soils and elevations from those in Rioja. So there must be another factor. Dictionary in hand, Earl dug through the Spanish national climate records. In these volumes of statistics about temperature and rainfall he discovered that Rioja and Ribera share a very similar climate. What's more, Earl knew that warmer Spanish provinces like Valencia and La Mancha produced inferior Tempranillo.
Back home on the Gulf Coast, Earl and Hilda poured over his findings. Their son Greg, a PhD candidate in atmospheric science at the University of Virginia focused his new skills on the mound of data. Putting the clues together, they concluded the elusive Tempranillo quality factor was climate: specifically, a short growing season with a cool spring and hot, dry summer cut short by autumn. This theory accounted for the disappointing history of California Tempranillo. Central Valley summers are too long and too hot to produce grapes worth bottling as varietal Tempranillo.
Hypothesis
Learning that the climate in Rioja and Ribera del Duero where they made the finest wines was virtually identical – and very different from Spanish regions where Tempranillo made only ordinary wine – was a Eureka Moment! It appeared that all we had to do was find that climate in America and most of our work was done. ~Earl
Now they had a hypothesis about what it took to grow fine Tempranillo, Hilda and Earl needed a place to test it. They studied maps of the lower 48 states, eliminating whole swathes of the USA that were obviously too cold, hot or rainy. Gradually they narrowed their search to seven Western states: New Mexico, Colorado, Arizona, California, Washington, Idaho and Oregon.
Earl, still working in academia, used conference trips to scout potential vineyard sites. A combination of legwork and airport weather records showed that Idaho, Washington and Oregon had the most similar climate zones to Rioja and Ribera Del Duero.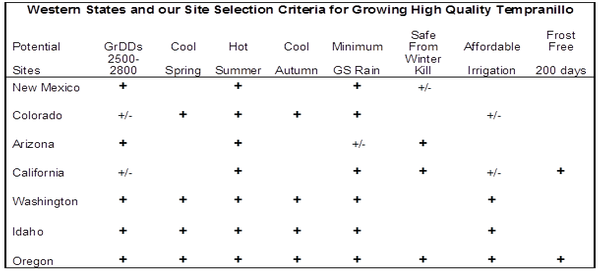 Delving into the data the Joneses quickly eliminated California using both climate factors like its long growing season and historical record of not producing tempranillo as a varietal wine.
The Joneses visited both Idaho and Washington and although attractive, eliminated both states from consideration due to the risk of deep winter freezes killing untested Tempranillo and the risk of frost cutting short the growing season. But parts of Oregon met all of their site selection criteria, especially the western valleys. The north (Willamette Valley) was obviously too cold and wet for Tempranillo but Oregon's south west valleys held promise of near-perfect homoclimes to Rioja and Ribera.
The graph below shows that both Roseburg and Medford, OR, enjoy climates that mirror those of Rioja and the Ribera Del Duero.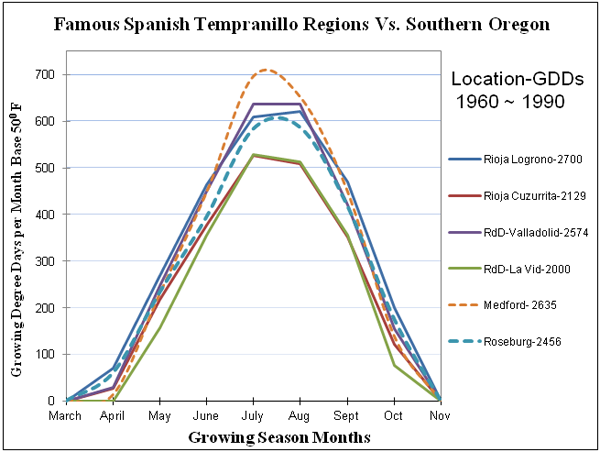 This graph plots the heat summation (Growing Degree Days ) for two sites in Rioja, using Logroño as the warmest location and Cuzurrita-Rio Tiron one of its coolest sites. Similar data for Ribera shows the warm extreme of Valladolid and the cooler area of La Vid. The data for Southern Oregon GDDS using Medford and Roseburg shows very similar numbers for the growing season but in addition they also shared similar cool springs, hot summers and cool autumns.
Finding the 'Laboratory'
Knowing that the Southern Oregon climate, from Roseburg to Medford was an identical Spanish Tempranillo homoclime narrowed the search but its mountainous topography and prevailing oceanic made the climate anything but homogeneous. So the new question became; where were most favorable conditions?
To sort this out the Jones's put the entire climatic region, from the Northern edge of Douglas County to the California Boarder, under the microscope and ended up choosing the southern Umpqua Valley for three reasons.
1. Its meso-climate is an excellent homoclime to Spain's Rioja and Ribera del Duero regions.
2. Umpqua weather records from 1883 revealed the Umpqua basin to have the warmest winters in Southern Oregon which minimize the risk of deep winter freezes (below 10 degrees F) killing Tempranillo vines which had not been tested to the extreme cold temperatures sometimes seen at the higher elevations in the colder Rogue valley.
3. These records also revealed that the Umpqua had the least risk of spring and autumn frost of any Southern Oregon sub-region which minimized the chance of frost damage and loss of crop.
The Jones's believed these most favorable conditions were best met in the wider portion of the valley in roughly a 20 square mile zone south of Roseburg. But still the question was which piece of terra firma should they purchase?

The Jones's utilized four "Ideal European" site characteristics to guide their selection:
1. Minimize frost risk by considering hillside over valley floor sites, preferably in wide valleys.
2. Maximize heat summation by selecting sunny hillsides with minimal foggy/overcast days.
3. Minimize vine vigor/encourage fruiting by selecting rocky, well-drained "poor" hillside soils.
4. Given the historical annual rainfall in the area select a site with access to irrigation water.
Topographical maps helped identify several potential locations and at that juncture Earl hired an experienced Roseburg pilot to fly him over the area. As the pilot flew crisscross patterns over the zone, Earl perched in the co-pilot's seat, listened/watched/highlighted the locations that met their criteria on topographical maps.
Back on terra firma the Joneses drove through the rolling hills and valleys to get a first-hand view of these locations. Upon tasting wines from Umpqua's half dozen wineries they were very pleased to learn that the best red wine tasted was sourced from a vineyard in their prime search area.
To their delight, they found land for sale that met all their criteria – including water for irrigation and, the bonus of access to a domestic water supply. Soon they were in real estate negotiations and in 1992 became the proud owners of 500 acres of unspoiled oak savannah; "Their Ideal Laboratory" had been found.
The fact their new property was not flat (in fact the topography was steep) made it likely an assortment of meso and micro-climates could be identified. Weather stations were established and early data begin to confirm these expectations.
Vineyard Climates; Documenting and Comparing
It now seems appropriate to jump forward in time to include a more complete story of the regional climate, sub-regional meso-climates and the micro-climates of Abacela as well. Greg Jones, a renowned climate scientist and – like his parents – a stickler for accuracy, initiated a study in 2003 that monitored the climate in 29 Rogue and Umpqua vineyards. Part of the data from that study is summarized below.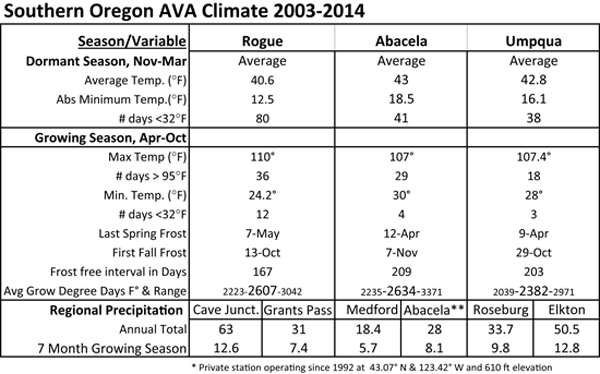 The table compares the climates the average values of other Rogue and Umpqua Vineyards to that of Abacela's Fault line Vineyards. More comprehensive data from five regional public weather stations is included for reference. In that regard it is important to recognize that vineyard weather data is not comparable to data from public weather stations because public stations are typically in urban areas and/or on airport tarmacs where warmer temperatures are typically found.
The data shows Abacela's climate to be an excellent match for that of Rioja and Ribera Del Duero as depicted on the graph above. The site also enjoys one of the region's longest growing seasons and has relatively mild winters. What is most remarkable perhaps is that the ranges of meso-climates within Abacela's Fault Line Vineyards are in essence microcosms of the region. It is as if microclimates common 75 miles south and 30 miles north had been conveniently assembled into a single 500 acre property to create an ideal vineyard laboratory.
The Geology of Abacela's Fault Line Vineyards
We learned early on that the Umpqua Valley was created by confluence of three major geological terranes and their corresponding mountain ranges, the Klamath Mountains, Oregon Coastal Range, and the Cascade Mountains. Indeed, from Abacela one can look toward the compass points and see peaks from all three of these mountain ranges.
We also understood that our location in the Umpqua Valley is shielded from the prevailing oceanic winds by the Oregon Coastal Range and portions of the Klamath Mountains. Their elevation and corresponding rain shadow increases to the south creating a dry growing season that requires irrigation.
What we didn't know would soon become a pleasant surprise!
We soon found that under the surface of our idyllic oak savannah not everything was alike. The first clue was found in ripping additional soil blocks to expand our original planting. In contrast to our original vineyard, Cox's Rock and the soil pits we had dug at random, ripping to the north showed that we had two extremely different soils. To the south was boulder laden loam and to the north the soil was loaded with round rocks (cobble) ranging from golf to volley ball size. The two soils were met along an east west line that coursed across the property. This was certainly of interest and we speculated that long ago an old river had deposited the cobble on the northern portion.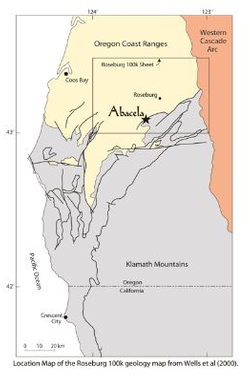 After planting that first expansion block which we had named "Cobble Stone Hill" there was a timely publication by the U.S. GEOLOGICAL SURVEY report; that clarified what we had stumbled upon. The figure to the left shows Abacela's location on the recently discovered fault line.
The report documents that millions of years ago the north thrusting ancient Klamath Terrane had collided with and overridden the youthful Oregon Coastal Terrane which was covered by ocean waters at the time of collision.
Subsequent, probably in the late Eocene era the submerged Oregon Coastal terrane had been uplift by huge submarine basaltic flows from the Roseburg Volcanics.
The fault line had actually been noted by some geologist in the 1800s but it went nameless until Wells, et. al. labeled it the "Wild Life Safari Fault" from their studies in a gravel pit owned by our next door neighbor, the Wild Life Safari Zoo. The timing of their publication was very interesting. While we were puzzled by the finding of two type of soil at Abacela, Wells' group, working literally across the fence a few hundred into the Safari property were drawing these profound conclusions.
The fault line runs east-west bisecting our vineyards into two distinct provinces. To the south lies bolder strewn loamy soils derived from ancient Cretaceous to Jurassic bedrock (250 million years old) while on the north are cobbled soils (what I thought was a river bed) derived from comparative youthful seafloor sediments created in much more recent history.
Most geologists visiting Abacela have speculated that the bed rock that created the soils of these steep south facing cobbled hills were uplifted in the last 10-20 million years. Some think the basalt flows did not completely end until double digit thousand years ago, perhaps just before Mount Mazama erupted to form Crater Lake (roughly 7,000 years ago). Thus the exact geological age and the phenomenology that created and juxtaposed these soils are not perfectly understood. Nevertheless, it is truly remarkable to consider that the bedrock that formed these juxtaposed soils could differ in age by as much as 250,000,000 years.
Thus the fault line that divides the older (Klamath) and younger (Coastal) geology create an interesting and unique vineyard property. The Klamath derived soils are littered with huge boulders of serpentine, quartz, jasper, blue schist, sandstone and conglomerate. The quartz and jasper contain gold.

In sharp contrast, the Oregon Coastal terrane which begins within a few feet to the north contains no boulders but is comprised of cobbled sea floor sediments that that were elevated by submarine volcanics in recent geological time.
A cross section of this geological interface was prepared by Wells and his group and is shown below. Their cross section passes through the Wildlife Safari roughly 1,500 ft east of Fault Line Vineyards. In geological terms 1,500 feet is an insignificant distance thus we have located Abacela on the drawing by the name and a red line drawn to scale. The cross section really helps one understand the dynamics of a thrust type fault line.
The pink material labeled Tsr in the cross section represents the submarine basalt deposits that lifted the sea floor sediments (Tbr) to the surface where they became exposed to form Cobble Stone Hill and Grand Hill.
But not all the fault line is obvious; roughly 2200 feet to the west of Cobble Stone Hill vineyard is Chaotic Ridge Vineyard. The fault line there is not obvious and consequently we thought of that vineyard as relatively chaotic. That portion of the fault line was described by Wells to be "occluded" meaning that it cannot be precisely located. But just to the west of the Abacela property border the fault line is once again visible to the casual observer.
Oregon's Most Interesting Vineyard Property
Early on (2003) Decanter Magazine dubbed Abacela "the most interesting property in Oregon" and over the years many others have agreed. Science and luck had their role in this story. The site with its generally permissive regional climate and multiple microclimates was selected using a careful scientific approach. But it was by chance that the site is where two geological terranes meet producing five major soil types. It is the combination of these physical factors that makes Fault Line Vineyards a virtually perfect vineyard laboratory. Still, without Wells' report and its uncanny timing the Joneses would not have understood the significance of the soils they farm.
In 2015, Dr Scott Burns Professor emeritus of Geology at Portland State University, after a study of vineyard soils in southern Oregon once again declared Abacela to be the most interesting vineyard property in Oregon.
The Materials
The 'laboratory' was ready and waiting. Now Earl and Hilda had to source Tempranillo vines, the raw material of their experiment.

In November 1993 they obtained budwood (shoots for grafting onto rootstock) of one clone from the Southern Oregon Regional Experimental Center (SOREC) in Jacksonville, OR. The University of California Davis sold them their supply of two more clones because, frankly, nobody in California had much interest in Tempranillo. Earl found a nursery to graft the shoots onto suitable rootstock.

Most Rioja wines, including Tempranillo, are blended with small percentages of complementary grapes. So the Joneses ordered vines of Grenache, Mazuelo, Graciano and other grapes used in Rioja.

Then, they waited. Scientists can boss around chemicals in a lab, but not grape vines. Earl and Hilda were on Nature's timetable now. The dormant vines would arrive at the vineyard site in spring of 1995. Meantime, they had a family to move.
The Experiment
Preparation
"Moving across the country didn't bother me. I come from an immigrant family. And my husband is very thorough with research. It wasn't like he just came home one day and said, let's move. I completely trusted his thought process and what he'd seen." - Hilda Jones

The Joneses had deep roots East of the Mississippi River but the future lay 2700 miles West. In the first few months of 1994 they put their house on the market, quit their jobs, rented a place in Oregon, and prepared for the biggest adventure of their life. With daughters Hanna, 12, and Meredith, four, they packed a Ford F350 pick-up, hitched up a trailer, and drove towards the sunset. Oregon or Bust!

They arrived in the Umpqua Valley on July 29, 1994 and faced 500 empty acres. There was nothing on the land; not even a road. When Earl's elderly father came to visit he took a long look at the scrub-covered hills then said: "Son, you've lost your damn mind."

Earl didn't necessarily disagree. "One of the criteria for doing a harebrained thing like starting a winery is you have to be a romantic idealist," he says. "And you got one right here."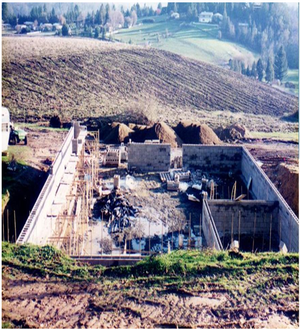 Romantic visions weren't going to get vines in the ground though. That needed elbow grease. Hilda's dream of living on a farm abruptly became reality. Instead of handling pipettes and slides in a sterile lab Hilda was pulling out stock fence, grubbing up blackberry bushes, and helping ready the land for planting. "It was a great way to get in shape," she quips. Earl put his youthful tractor driving experience to work ripping the land. When the soil was ready they raised eight-foot deer fences, laid irrigation lines and built a 7000 square-foot gravity flow winery.
Planting

Earl and Hilda planted Abacela's first vines on Memorial Day 1995. It was a triumphal moment after ten months of preparatory toil, but only a moment. Once the grueling work of getting 10,000 individual vines into 12 acres of ground was over they had a nail-biting wait to see how the first stage of their experiment would turn out.

One-third of the planting was Tempranillo, the rest were complementary grapes that were equally unusual in the Pacific Northwest. As good scientists, they looked to peers for advice but nobody else was growing these varietals. They were pioneers... and they were exhausted. To their delight the vines went dormant that autumn, a sign they were settling into their new home.
First Harvest

In fact, the vines did so well the summer of 1996 was spent in a flurry of trellising, pruning and vine training. At harvest they had enough fruit for an experimental foray into winemaking. Armed with a how-to book and intuition, Earl made 36 cases of Cabernet Franc – Abacela's first commercial wine. Thirteen-year-old Hanna's illustration of the sun shining over the vineyards became the label art (and remains the iconic label to this day). On receiving approval from the Federal Alcohol and Tobacco Tax and Trade Bureau (TTB) Abacela became Oregon Bonded Winery number 206. The Joneses were officially in the wine business.
Tempranillo's Debut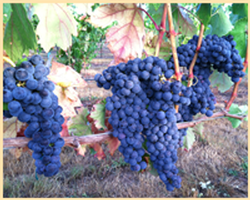 The following autumn, 1997, the small vineyard team hand-picked 22 tons of grapes from Abacela's 12 acres. It was enough to make 974 cases of wine, including 243 of their beloved Tempranillo. This was the moment of truth. Abacela's was the first varietal Tempranillo ever produced in the Pacific Northwest – maybe even in all of the USA – but was it any good?

To find out, they schlepped to the Oregon State Fair where their experiment garnered several medals. Next stop, Portland, where they wooed restaurateurs by pouring the wine first, and telling them where it came from second. Their Tempranillo became a cult hit. Earl and Hilda got roused from bed on Sunday mornings by strangers calling their home/business number to ask where they could buy more of the wine they'd enjoyed the night before. Or Hilda would take calls in the office then hail Earl, in the vineyard, by walkie-talkie so he could drive the tractor down to meet visitors.
Validation
"We started planting in '95. We bonded the winery in '97. We saw the first fruits of our labor with the '96 release. When we got that double gold with our '98 in 2001 it was validation." - Hilda Jones

Their children were growing, the vines were thriving, early feedback was positive, and the business side of the winery was taking shape, but Earl and Hilda's grand hypothesis had yet to be settled. Was climate the key to producing fine varietal Tempranillo in the USA?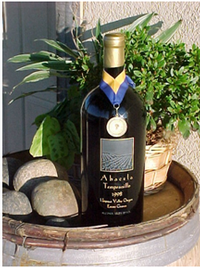 In 2001 they took their 1998 Estate Tempranillo to the San Francisco International Wine Competition, America's biggest, most prestigious international wine competition. Panels of world-renowned experts blind-tasted the entries. The only way to win favor here is to bring the best wine.

There were 21 entries in the Tempranillo category. Nineteen from Spain's best bodegas plus Abacela and one other American wine. Bronze would have been an extraordinary achievement. Silver unprecedented. Imagine the stunned silence when the judges awarded Abacela Double Gold and first place.

A tremor ran through the wine world as it realized an unknown American vineyard and self-taught winemaker had gone head to head with the finest Tempranillo wineries of the Old World – and won.

The following year Doug Frost, founder of the Jefferson Cup, which pits award-winning wines against each other in a 'best of the best' challenge, requested the '98 Estate Tempranillo for the 2002 competition. It finished in the top 10% of some 300 Gold Medal winning wines, confirming Earl and Hilda's theory that climate is the secret of great Tempranillo. Twelve years in, they could raise a glass, look each other in the eye and declare the experiment a success.
Early Success leads to expanded trials
For Earl and Hilda, the thrill of validation they could make world class tempranillo was only the beginning. They were in an Oregon climate that had not been tested for very few warm climate grapes except Merlot, Cabernet Sauvignon and Zinfandel. So, how many other old World grapes, in addition to tempranillo might also thrive in this climate? The blazing success of their '98 Estate Tempranillo was affirmation they were on the right path with their climate theory. Next, they would repeat the experiment with other grape varietals.
Abacela's 25 Variety Site Trials; On-Going Results
Earl and Hilda carried out these trials by selecting grape varieties whose Old World home of origin shared a climate with one of the micro-climates found at Abacela. The table below shows the results to date.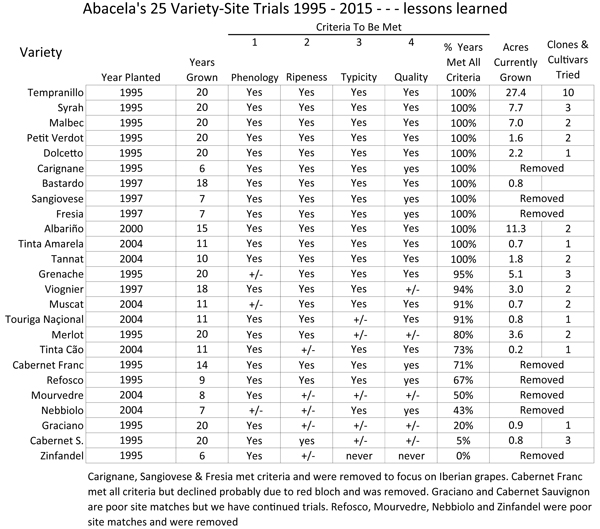 Many of these Old World grapes had never been planted in Oregon or the Pacific Northwest. The varieties that were already being grown were typically planted in small acreages and used only for blending (as in Bordeaux-style wines) but none were being bottled as varietal wines.
Some of this mélange of varieties thrived, some failed, and some surprised.
The table summarizes the results but to fully grasp Earl and Hilda's magnificent experiment, you need to visit the Vine & Wine Center and, glass in hand, take a long look at the patchwork quilt of vines covering the hillsides. Only then can you appreciate the scope and success of their labor of love.