January 29, 2022 | Climate Of Wine, In The News | Abacela Winery
SOU professor says climate change impacts wine-making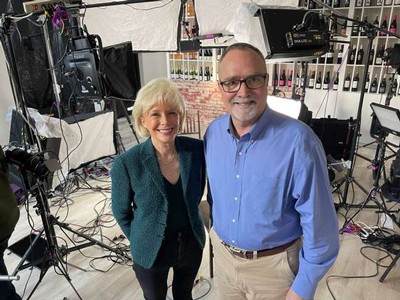 A Southern Oregon University professor was interviewed on "60 Minutes" for a feature that aired this past Sunday about climate change's impact on the wine industry.
Greg Jones, who specializes in the study of how climate change influences the growing and harvesting of wine grapes, sat down with veteran CBS reporter Lesley Stahl. He told her that grapes are "sensitive" to changes in Earth's temperature and that it is accelerating the fruit's ripening process — so much so growers are having to harvest them much earlier than normal.
The "60 Minutes" segment even noted that global warming is one of the reasons vineyards are migrating north of the renowned Napa Valley to places like Oregon, where it used to be too cold to grow grapes, according to Jones.
"The warming to date has helped the state's industry become more consistent and even world-renowned," wrote Jones, who praised the legendary broadcast show, in an email to the Mail Tribune. "The problem is that additional warming and especially drying could challenge Oregon's wine production in the future."
The "60 Minutes" segment named Willamette Valley as a region that's become more popular for winemakers — but it did not mention Rogue Valley, which has its share of wineries and vineyards being impacted by climate change. Jones talked about this and his work at SOU in an interview a day after the "60 Minutes" segment ran.
This southern region of the state has been extensively studied by Jones, who taught and conducted research at SOU from 1997-2017. After leaving Ashland, Jones was named an "affiliate" faculty member — stepping away from the institution to pursue other endeavors, but not exactly retiring, either.
Jones — now CEO of Abacela Vineyards and Winery in Roseburg — has been named to numerous wine publications' top 100 or 50 lists of influential people in the industry. He was also a contributing author to an international climate report that merited a Nobel Prize in 2008.
Over 20 years at SOU, Jones sought to better understand grape growing in the Rogue Valley, mapping all of the vineyards; collecting data on weather, soil and how the plants were growing.
In his latest "vintage report," posted on his website www.climateofwine.com, Jones recorded 2021 as having the second warmest growing season on record.
"When you have drought occurrences and real intense heat, those two things, in combination, can be challenging to growing balanced fruit and wine," Jones said. "I think the growers in the region have done a really good job managing and adapting to the conditions we have."
Constance Thomas, manager at South Stage Cellars in Jacksonville, acknowledged climate change makes it difficult to grow grapes and produce wine.
"The climate change that's happening has impacted the grapes all the way around," Thomas said. "I know vineyard managers that have just left the business, partially because there are still extreme differences from year to year, it's hard to get any consistency with their grapes."
Echoing what Jones said on "60 Minutes," Thomas confirmed in an email that South Stage Cellers has been picking its grapes "earlier and earlier each year." She did not elaborate more on that before the newspaper's deadline.
In an earlier phone interview, she talked about a variety of challenges South Stage faces, including the summer heat and how it impacts South Stage Cellars' grapes.
"You need a certain length of time for the grapes to hang on the vine," she said. "If the sugars get so high because the temperatures are so high, a lot of times, the flavors don't get there."
Thomas went on to say the impacts of climate change on her winery is not just related to heat.
"We are not getting the rain we normally get when we normally get it," she said. "With climate change, there really is no normality at all."
Last year, South Stage Cellars was supposed to plant another 50 acres of vines, but decided not to because of the predicted lack of precipitation.
"Winemakers have to be much more creative and try different things to combat climate change," Thomas said.
The "60 Minutes" segment said wildfires have been known to impact vineyards — and not just if they're completely burned down. Smoke can be a factor in harming the grapes.
Nevermind the Almeda fire of 2020, Thomas said her winery and others have felt the impacts of smoke emanating from wildfires not even near the Rogue Valley.
"Unless it's a smokey varietal, it might have a different type of smoke – when varietals age, they might smell a little bit like bacon," she said. "That's not from wildfires."
She acknowledged that dealing with an issue like climate change, that requires an all-hands-on-deck approach to mitigate, is tough — but winemakers are doing what they can.
"We have very talented winemakers in the valley and they're doing a great job," she said.
---
By Kevin Opsahl, Mail Tribune, Dec 27, 2021 06:59 PM
Comments
Commenting has been turned off.