August 12, 2021 | In The News | Abacela Winery
Abacela named one of The 25 Best Wineries in the United States
Katy Spratte Joyce, Reader's Digest, August 10, 2021
Cheers to the perfect trip!
According to the National Association of American Wineries, there are more than 10,000 wineries in the United States. In fact, wine is actually being produced in all 50 states, which means wine-tasting fun is ready to be had from sea to shining sea. From the sparkling standouts in New York's Finger Lakes to the earthy goodness of Oregon Pinot Noirs to the bold Cabernet Sauvignons of Napa Valley and everything in between, we've got you covered at some of the most gorgeous wineries in the world. And while wine preferences vary by person, this list is filled to the brim with stellar options for every taste—and every type of trip. Whether you're looking for a mini-vacation that won't break the bank or the perfect weekend getaway with your girlfriends or your significant other, here are the 25 best wineries in the United States, in no particular order.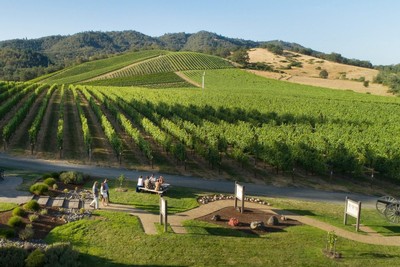 ABACELA WINERY
This pretty property is ensconced within the lush Umpqua Valley of Southern Oregon, which can be one stop on an Oregon Trail road trip. Due to the warmer weather in the south, the best wineries in this region offer Malbec, Syrah, and Grenache, as well as a port-style dessert wine. The team at Abacela is best known for pioneering Tempranillo and Albariño in the Pacific Northwest and has won numerous awards like Oregon Winery of the Year and Oregon Vintner of the Year. In addition, Abacela's 2005 Tempranillo Reserve won the first-ever Gold Medal for an American producer in Spain's 2009 Tempranillo al Mundo Competition.
Visit for both indoor and outdoor tasting options, including a seated tapas and tasting pairing, plus a self-guided tour on the Winegrowers Walk. You're sure to enjoy this estate property, whether through the traditional wine flight, reserve flight, experimental flight, or with a private library tasting experience. Rest your head at the nearby Bell Sister Flats in Roseburg, a former hat shop turned historic lodging pick that is walkable to downtown.
Comments
Commenting has been turned off.